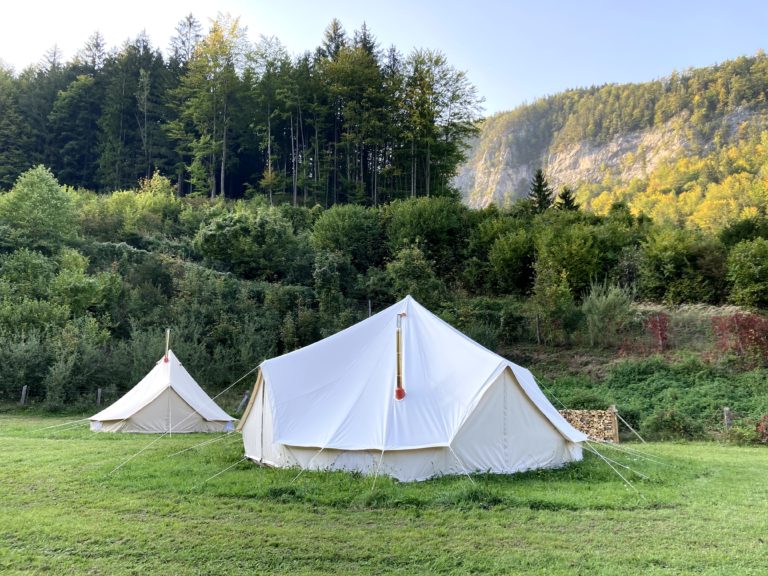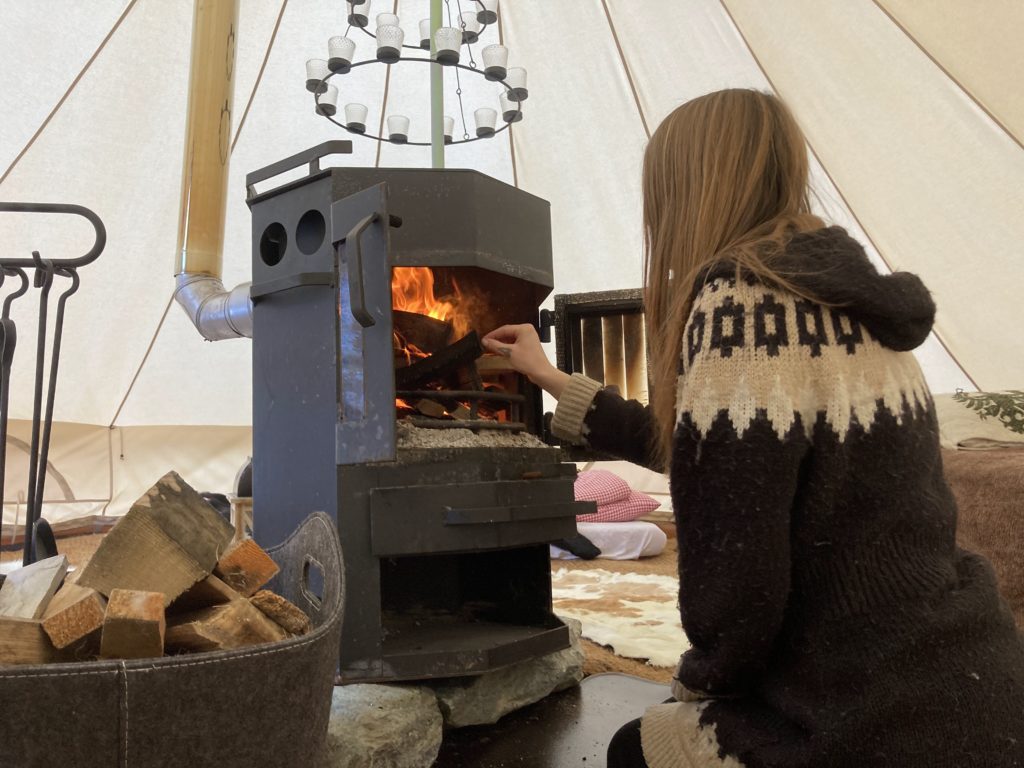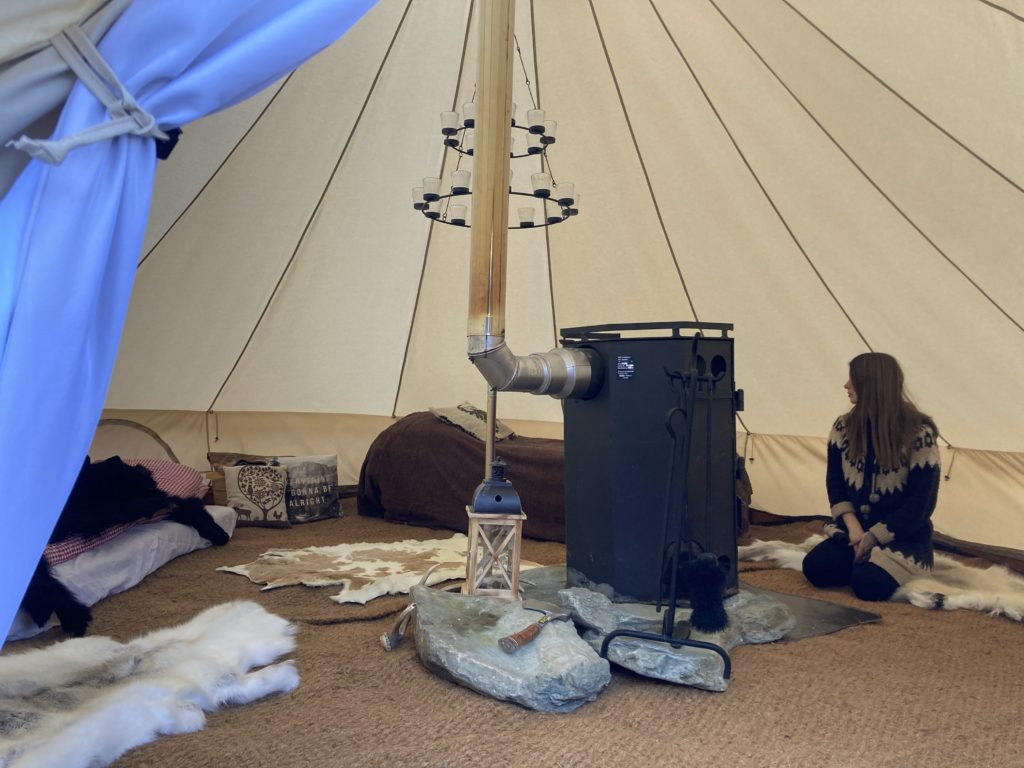 PIONEER CAMPING LIKE THE HUBMERS
Roughly 250 years ago lumberjacks started to settle in the ancient forest once covering all of Nasswald. Only slowly they carved out their homesteads in one of Austria's last wild valleys. It is very much possible that some of them initially slept in tents made of canvas - a tightly woven cotton fabric, rain repellent and wind resistent. A century later Native Americans of plains tribes would use the same material for their tepees when the once abundant bison had become scarce due to Euroamerican induced overhunting. To commemorate, recapture and revive the pioneering spirit of these times, we founded the Johann Hubmer Pioneer Campsite in the center of Nasswald and put canvas tents up to house adventurers and other guests coming and staying with us in Nasswald. It is named after Johann Hubmer, one of the founding fathers of the town of Nasswald, a true pioneer of his time. The Johann Hubmer Pioneer Campsite serves as a basecamp for adventures and outdoor activities offered at Wild Nasswald and can be booked from 1 up to 7 nights. Come stay with us in the wild!
Booking details: 
1 to 6 nights of Pioneer Camping in our Canvas tents
Fireplace, firewood and cooking stove included

Access to public bathrooms & o

pen air fitness center
Only bookable in combination with one or more of our activities.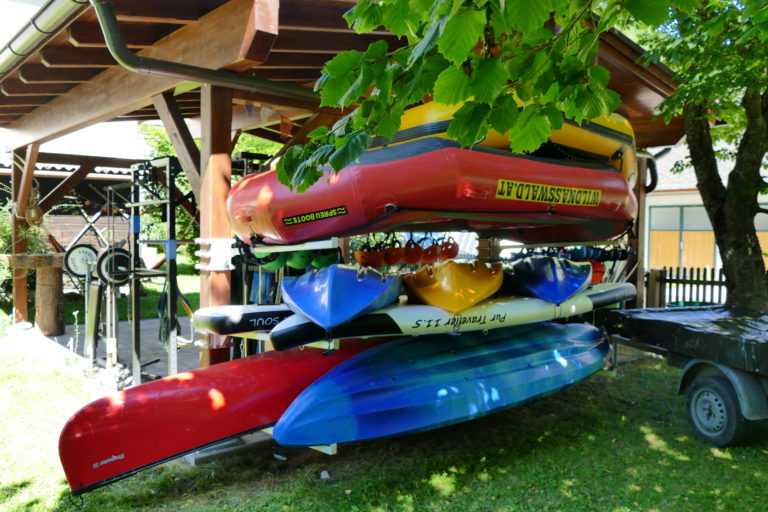 KAYAK, SUP & TUBE RENTAL
If you're interested in paddling the Schwarza by yourself we offer you all the equipment you need to to it safely and enjoyably! We'll deliver Tubes, Kayaks, Stand Up Paddleboads (SUPs) and paddles to a fitting launch entry along the Schwarza or the put in of your choice, give you a quick instruction and get you into the water. After you're done we'll pick you up again and take you back to your car, train or bus station. Alternatively to going alone, you can also book a guided tour, where we show you how it's done and take you to the best spots on the river.

HALF DAY is up to 3 hours time on the river.
FULL DAY is up to 6 hours time on the river.
Shuttle services to the entry and from the exit point along the river are included.

With each boat rental, lifejackets, helmets, river boots and upon request wetsuits will be provided.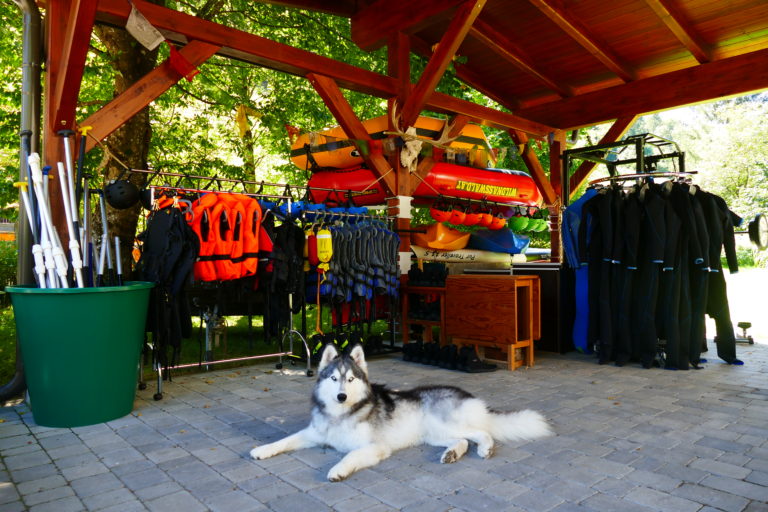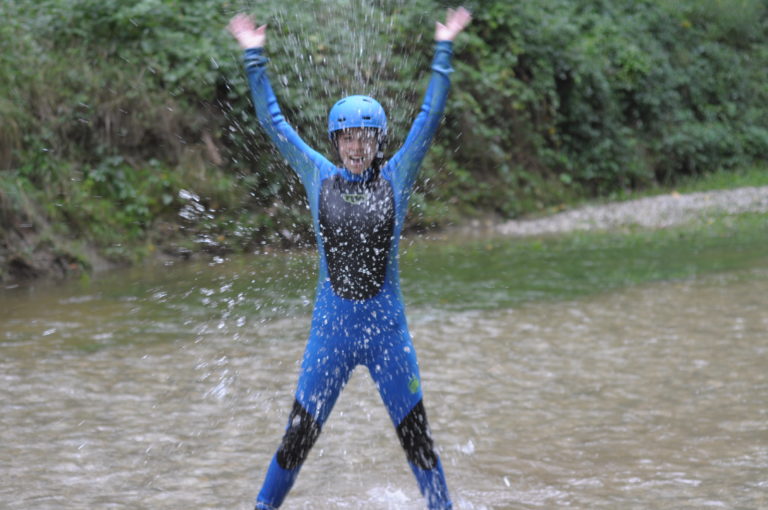 RIVER WALKING EQUIPMENT RENTAL
If you would like to explore the river on your own, we can provide you with the equipment you need. We will set you up with 3mm thick and warming wetsuits, water boots, helmets and lifejackets upon request that will protect you from the freezing temperatures, keep your head safe and above water.

HALF DAY is up to 3 hours time on the river.
FULL DAY is up to 6 hours time on the river.

DOGVENTURES: ACTIVITIES FOR DOGS
If you're looking for someone, that doesn't only take care, but also positively engages with your dog, then you've found the right place. Mackenzie is dog trainer and has lived with at least two and sometimes up to four dogs since early childhood. Georg is certified in Animal Protection and Animal Caretaking, has lots of experience with dogs and is a passionate musher. Our two dogs Obsidian and Viera are trained to be therapy dogs, are very sociable and engaging with other dogs and accept them as players in their pack. We'll adjust our activities to the needs of your dog, be it games in the garden, walks, mental exercises, short or long hikes. Upon request we can also do obedience training with your dog or support him in learning desired behaviors. To ensure a high quality of our services, we only take two dogs in at the same time. Gladly we'll have your dog stay and play with us for more than one day; your dog can stay overnight, over the weekend and also during the week.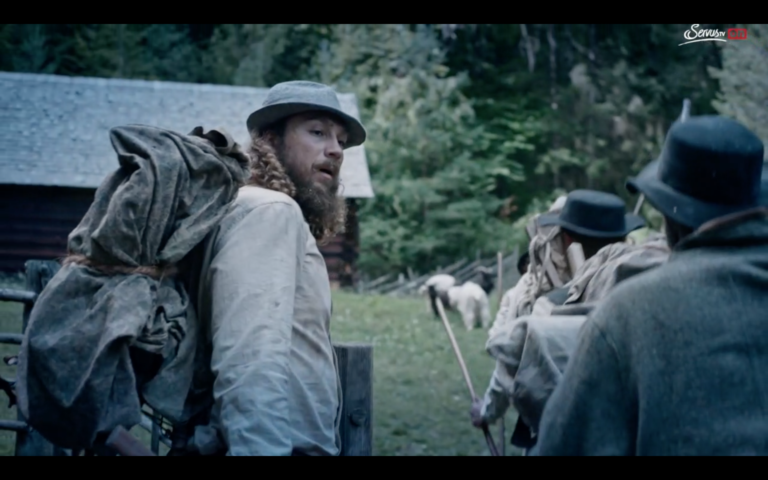 Images above: Georg Bergthaler starring as Johann Hubmer, one of Nasswald's founding fathers, in the documentary: "Von Sturmschäden und Visionären – der Raxkönig", ©ServusTV (Red Bull Media House GmbH).
OPEN AIR MOUNTAIN FILM DISCUSSIONS
On Thursdays and Sundays we're hosting film and campfire evenings under the open sky with river-mountain-forest backdrop at the Nasswald Wilderness Center. Afterwards we will have open discussions around the campfire. We don't charge for entry but ask for voluntary donations.
Drinks can be purchased on site for very fair prices: Beer, Spritzer or Captain Coke 0,5 L for 2,90€. Starts at 8 PM from June 1st to August 30th.

Movies at the Nasswald Wilderness Center will be mostly revolve around themes of outdoor and adventure travel, mountain and backcountry life, survival and bushcraft. Call us to learn more.

As a small family enterprise we value and cherish the personal contact and relationships with our guests.
An outdoor experience tailored to your individual needs and skill levels as a single adventurer, family, group or company.