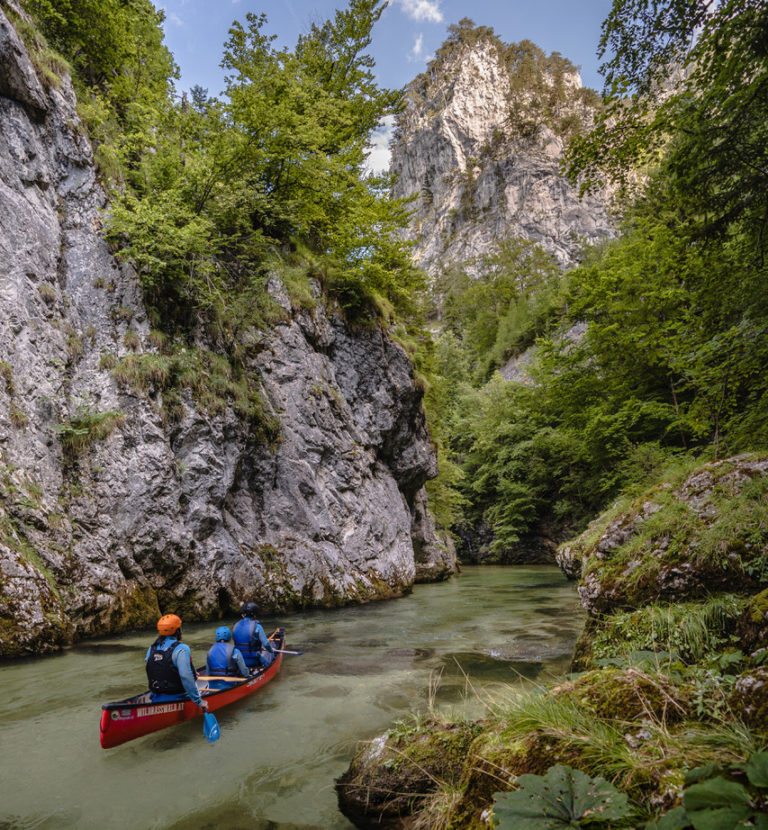 WHITEWATER CANOEING THE SCHWARZA: A RIVER TRIP THROUGH HÖLLENTAL CANYON
Often referred to as Little Canada of Austria, the Schwarza River in Hell's Canyon (Höllental) hosts an exciting interplay of great whitewater up to WW III as well as mellow sections to recreate and enjoy the surrounding nature.
Depending on your previous experience on the river, we will canoe either rather timid sections of the Schwarza or its more challenging waters. If you are more than 3 people on the canoe, additional people will join in kayaks. In any case you will have a chance to jump into clear freshwater pools from rocks and also get to relax and swim during your float. Guide Georg will also gladly tell you about the history of the canyon and its use to transport logs in the past during your trip if you're interested. Adventure-feel guaranteed.

PLEASE NOTE: We work ecologically responsible and in cooperation with local fly-fishers. That means if the Schwarza's water level is too low to go through with boats without damaging the ecosystem on your booked date, we'll do the canoe tour on the upper Salza instead.

Life jackets, helmets, wetsuits and river boots are included.

Available for all levels of experience:
Beginners to Advanced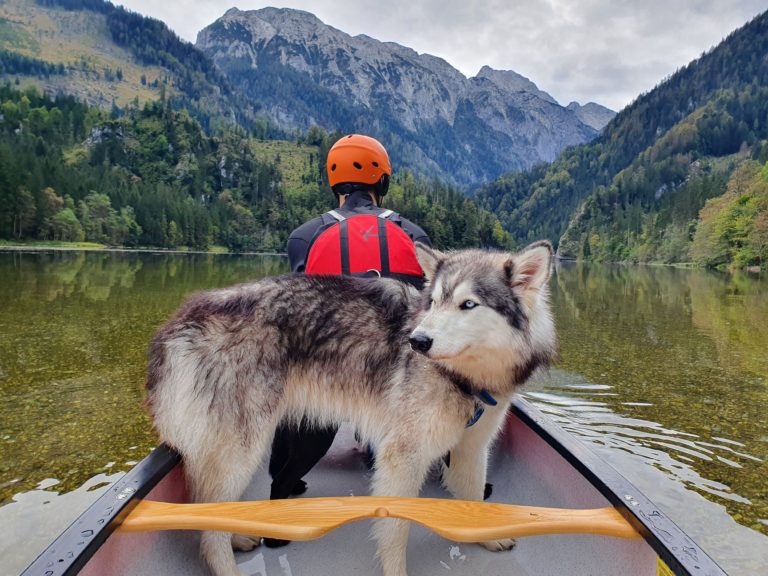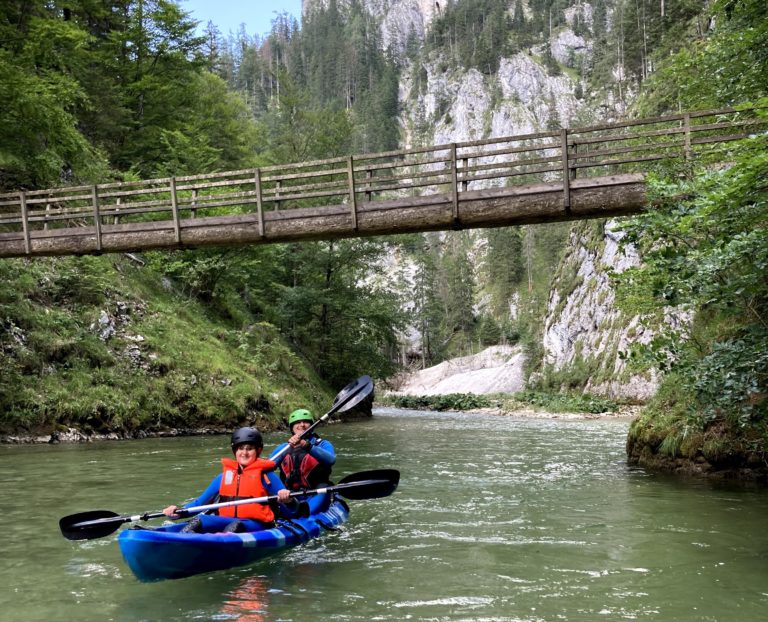 WHITEWATER CANOEING THE UPPER SALZA: AUSTRIA'S WILD RIVER JEWEL
Come with us on an unforgettable wilderness expedition that seeks its kind in Austria. On this whitewater canoe tour (up to WW II) we will take you through the pristine and remote canyons and rock river valleys of the upper Salza. The so called Klausgraben is a canyon that can only fully be visited by boat on the river due to its sheer rock walls surrounding it with no roads getting close to it. On top of being a protected bird habitat area, the natural landscape has maintained a wild and untouched character rarely encountered in otherwise infrastructurally highly developed Austria.

It is a unique experience for anyone and a MUST for every naturelover! Just about an hour from Nasswald, you can either meet us directly at Gußwerk, pick you up from Payerbach-Reichenau train station or take you with us from Nasswald.

Life jackets, helmets, wetsuits and river boots are included.

Available for all levels of experience:
Beginners to Advanced
WHITEWATER CANOEING THE MÜRZ: REMOTE AND UNIQUELY WILD
From Frein an der Mürz til Mürzsteg, the Mürz river flows through wild and pristine forest landscape specked with rocks and canyon walls in a relatively wide but flat river bed. Thus it remains impenetrable for rafts, but can be ideally navigated with canoes and kayaks. This guided river tour through the clearwater upper styrian life veign provides explorers with perfect conditions to jump from rocks, ride through thrilling rapids and go bathing in cool refreshing mountain water pools. The Mürz has it all, but not too much of it either. Its an ideal tour for whitewater beginners who want to test or improve their canoeing skills.

PLEASE NOTE: We work ecologically responsible and in cooperation with local fly-fishers. That means if the Schwarza's water level is too low to go through with boats without damaging the ecosystem on your booked date, we'll do the canoe tour on the upper Salza or Schwarza instead.

Life jackets, helmets, wetsuits and river boots are included.

Available for all levels of experience:
Beginners to Advance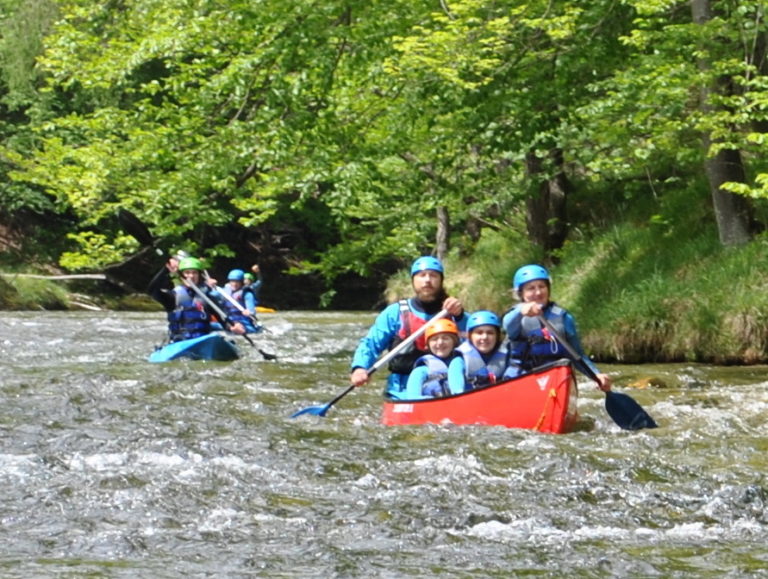 BECOME A CAPTAIN: LEARN HOW TO NAVIGATE YOUR CANOE IN WHITEWATER

In this two-day training our coach Georg will make you familiar with basic canoeing techniques on rivers and will supervise you in trying light white water on your own.
On top of that, you'll be instructed in safety principles, swift water characteristics and rescue procedures needed to continue working on your whitewater skills with a like-minded team or partner.

Life jackets, helmets, wetsuits, river boots and boats are included.

During this workshop, you can stay in one of our canvas tents at the Johann Hubmer Pioneer Campsite or book a room at the RAXKING INN ("Wirtshaus zum Raxkönig").

Recommended as beginner course
in white water canoeing.
As a small family enterprise we value and cherish the personal contact and relationships with our customers.
An outdoor experience tailored to your individual needs and skill levels as a single adventurer, family, group or company.